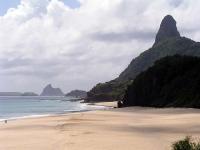 350km off the Atlantic coast, Fernando de Noronha is an archipelago of 21 islands, formed by volcanic activity about 12 million years ago. 70% of the archipelago is a national marine park, generally accepted as one of the most untouched and unique marine systems in the world.
The main island is ringed by a variety of lovely and deserted beaches, the calmest of which are on the leeward side. A unique feature of the island is the presence of spinner dolphins (stenella longinostris), around 1,200 of which congregate nearly every morning in Golfinho Bay and whose aerial displays are a delight to watch. Noronha is a paradise for divers of all standards - turtles, dolphins and even the occasional shark can be seen in addition to a wonderful display of tropical fish.
Our preferred accommodation
Inn/Posada - Island centre

In the centre of the island, with views to the Pico de Morro rock and the Atlantic ocean beyond. The restaurant is excellent with a wide selection of wine. In the centre of the complex is a lovely drop-away pool.

Beach hotel - Sueste bay

A beautifully designed pousada with stylish interiors, an infinity pool, sauna and an excellent restaurant overlooking Sueste beach. The most luxurious option on the island.

Lodge/Hosteria - Island centre

A small eco-lodge set in virgin forest, just 10 minutes walk from the secluded

Conceição Beach

. There is a swimming pool and panoramic restaurant, open to the fresh air.