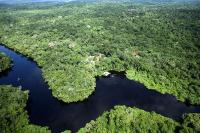 This is the southernmost tip of the Amazon rainforest - a frontiers area which is being constantly eroded by the pressures of human habitation. A combination of private reserves and state parks are doing their best to protect this area of primary rainforest, with abundant wildlife and great natural beauty.
Our preferred accommodation

means that the hotel is one of our Dream Destinations.
Lodge/Hosteria - Alta Floresta - Every day

A luxury jungle lodge on the edge of the clear waters of the River Cristalino, along the southern belt of the Amazon. The lodge is accessible only by river and is set in a private reserve of 11,399 hectares of pristine and primary rain forest. This region is recognized as an important area of the Amazon in terms of biodiversity.