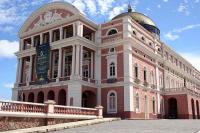 Manaus, on the banks of the Rio Negro, flourished during the 19th century rubber boom, when the famous opera house and floating docks were built. Today economic activity has returned as it is a duty-free area for (mainly) the electrical industry. There are colourful markets (particularly for fish) and a boat trip to the meeting of the waters (where the brown Amazon, know here as the Solimões, meets the black waters of the Rio Negro) is popular.
Our preferred accommodation
City hotel - City centre

Just half a block away from São Sebastião square (site of the famous Teatro Amazonas opera house), this boutique hotel has been created from a former rubber-planter's house. There are spacious sitting areas, a restaurant, and an infinity pool.

City hotel - North edge of Manaus, on the Rio Negro

A large and sprawling colonial-style hotel relatively close to the airport, with its own docks.