This small, friendly country is perfect if you want to get away from it all - whether your preferences are a bit of luxury or to take to the hills on horseback!
Uruguay's sophisticated capital Montevideo, on the banks of the River Plate, has fine dining, an eclectic night life and a chic shopping district noted for its art deco architecture. Just down the coast are the fashionable resorts of Punta del Este or José Ignacio - the place for the glamorous set to see and be seen. But with miles of deserted, pristine beaches, you can easily seek out sun and solitude, hone your surfing skills or enjoy some fantastic bird watching. Riders are in for a treat too - galloping through the salt spray or exploring the expansive, rolling countryside inland.
Away from the main tourist destinations, highlights include wine tasting at romantic vineyards and strolling through the cobbled streets of charming colonial towns. Stay in a historic estancia and discover gaucho culture on a working cattle ranch - locals say the beef is the best in the world. Try it in a juicy chivito sandwich followed by a dulce de leche with a flask of yerba mate - a high-caffeine herbal infusion as ubiquitous as the great British cuppa.
Highlights
Here are some of our Uruguay highlights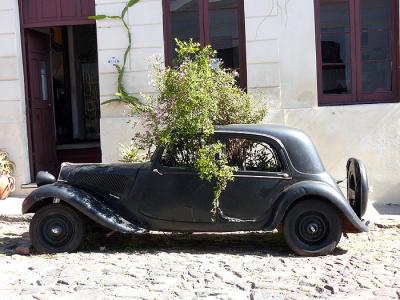 Picturesque Colonia
Peaceful Colonia del Sacramento has the best-preserved colonial architecture in eastern South America. Just a short trip across the river plate from Buenos Aires make it near enough for a day trip, but the town warrants a few days in its own right to appreciate its charm.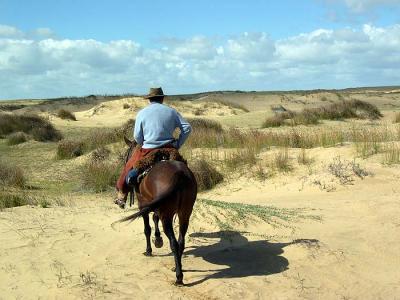 Horseback riding
The riding in Uruguay is amazing - across wide open 'pampas' and along deserted sandy beaches to the hills near the Brazilian coast. Stay on working ranches and sample traditional barbeques for a real taste of the 'gaucho' lifestyle.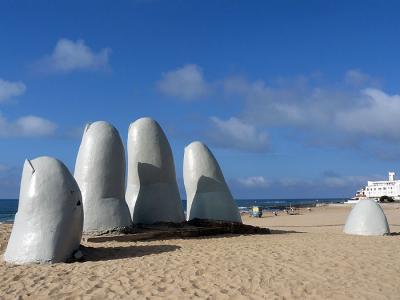 The East coast
The 340km coastline from Montevideo to the Brazilian border is awash with beaches, dunes, forests and lagoons. Lively Punta del Este and the quiet fishing villages beyond are the places to see and be seen from December to March.
I'm still on cloud nine, it was a fantastic holiday, just great. Sally paid so much attention to detail. The horses were a joy to ride and I did not want to dismount come the evening. The gauchos, the estancias, the food, the people and the countryside were all a dream come true. We had so many adventures, which were enhanced by the company of the other riders, such fun. I felt so safe in Uruguay and would go back tomorrow if funds allowed. Thank you for all your preparations for our holiday, much appreciated. - SM
When to go to Uruguay
Uruguay Useful Information