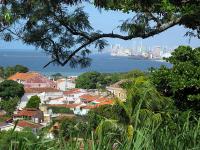 Natal is a bustling city (with one of the world's largest urban parks) whose suburbs have some lovely beaches and good hotels. Its proximity to the lively fishing village of Pipa and the sand dunes at Genipabu, just to the north, make a stay of a number of days worthwhile. Recife is laid out along a beach, similar to Rio. Here too is Olinda, a former capital, a pretty town with cobbled streets and some of Brazil's best-preserved colonial architecture.
Inland from Natal and Recife is the fascinating Carirí region, once home to the megafauna of the Pleistocene era: mastodons, giant sloths and sabre-toothed tigers. Enormous boulders perch on rounded granite hills, dinosaurs have left fossilised footprints in ancient lake beds, and there are signs of human occupation dating back tens of thousands of years.
South of Recife more beaches and friendly resorts are found at Porto de Galinhas, while further still Maceió is the capital of the small, friendly state of Alagoas and mainly a sugar port. The best beaches here are north of the city and have a protecting coral reef about a kilometre from the shore. Marechal Deodoro is an attractive colonial town 22km south of Maceió overlooking Lagoa Manguaba, with some interesting buildings.
Our preferred accommodation