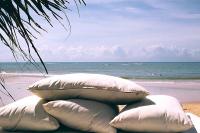 Porto Seguro, in Southern Bahia, is a popular holiday resort for Brazilians and the gateway to the beautiful, unspoilt beaches visited from Arraial d'Ajuda or, slightly further south, Trancoso. The latter is a fashionable yet unspoilt fishing village with charming pousadas (inns), boutique shops and excellent restaurants.
Our preferred accommodation

means that the hotel is one of our Dream Destinations.