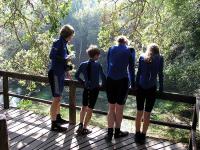 In the southern Pantanal is the small town of Bonito. Tourism was first developed here when settlers and residents realised the attraction of the caves and crystal-clear rivers. You can snorkel with massive dourado, float down rivers and over small waterfalls, or admire stalactites in limestone caves.
Our preferred accommodation
Country hotel - 20km from Bonito

A small country hotel on the banks of the Rio Formosa a short drive (20km) from Bonito. The main house and communal areas are stylish and well designed and there is a raised pool and wooden deck in the garden. The grounds are spacious, originally part of the neighbouring fazenda who provide the hotel with much of the food, and there is a short path that leads to a bend in the river where guests can swim in the rapids.

Inn/Posada - Bonito

An hotel 3km from the town centre, with air conditioned rooms spread out amongst 6 hectares of garden. There is a pool, and all rooms have a hammock and outside seating area. The restaurant serves all meals (breakfast and supper are included in the daily rate).