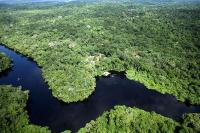 Cristalino Jungle Lodge
Location
Alta Floresta (Alta Floresta, Brazil)
Description
A very comfortable jungle lodge on the edge of the clear waters of the River Cristalino, along the southern belt of the Amazon. The lodge is accessible only by river and is set in a private reserve of 11,399 hectares of pristine and primary rain forest. This region is recognized as an important area of the Amazon in terms of biodiversity.
Departures
Every day
Activities
Experienced local guides take guests on walks through the jungle trails and by boat on the river. There is a chance to go canoeing, hiking, fish for piranha, or to climb the 50 metre observation tower to watch the birds from above the tree canopy. The tree house allows guests to wait in the dark for animals such as tapir to appear and the night spotlight illuminates them perfectly. After dinner, the guides give illustrated talks on what has been seen during the day.
Accommodation
There are a 18 bungalows. The Standard bungalows are spacious and comfortable, and rustic only in design. The VIP bungalows are very attractive, with a private terrace and outside hammock: they have two bedrooms and a living room, and the decoration is smart and tasteful. The dining areas (inside and outside) are communal and the food is delicious and plentiful.
Our comments
With such easy access from Alta Floresta (which combines well with the Pantanal), this is a wonderful opportunity to experience the jungle in comfort and the wildlife is abundant and fascinating.
When to go
All year round.
Client comments and reviews
Most people think you have to fly to Manaus to go to the Amazon but we were already in the Pantanal and flew just one hour from Cuiaba to Alta Floresta, from where we were driven and travelled by boat in an hour and a half to Cristalino Lodge. The small, beautiful lodge is the only one in the extensive Cristalino Reserve and our excursions were in very small groups, so we felt like we had the rainforest to ourselves! With our great guide we saw more wildlife than expected, including different monkeys, caiman and stunning birds. Cristalino is a hidden gem! - GL (March 2014)
I loved Cristalino lodge. Great food, friendly staff who have been there for years, always a good sign, and superb birds. One of the most memorable moments was standing behind a tree with Jorge, the boatman cum guide, plus Hemme a Dutch volunteer guide, as a herd of peccaries came very close! They had youngsters with them which Jorge says sometimes makes them a bit too "bravo". As they got a bit too close, Jorge suddenly imitated the roar of a Jaguar and they all fled snorting! Also had magical views of Zig Zag Heron just a few feet away in the spotlight and superb views from the canopy tower of Aracaris and spider monkeys, plus many other species. I was the only guest the first couple of nights and was then joined by a Scandinavian who was given her own boatman and volunteer guide. The fact that all boat trips, transfers etc are included in the price I think is very reasonable. I thoroughly recommend it. - PH (December 2007)