If you are wondering where to spend your next holiday, let me suggest Chile. In 14 nights you can comfortably cover the highlights of this land of extremes, experiencing the driest desert on earth, the soaring peaks of the Andes, fields of ice, vertiginous volcanoes and some truly tremendous wine. Home to some of the most pristine parts of our planet, Chile is a country not to be missed. Especially now getting there is easier than ever thanks to British Airways' new direct flights from London Heathrow.
I recently spent 2 marvellous weeks there checking out various properties, meeting partners and enjoying a whole host of activities.
Santiago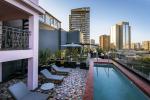 View from the Luciano K's rooftop
The first thing that strikes you as you come to land in Chile's prosperous capital, is the cityscape, which is as flat as a pancake except for several stand-alone hills. With snow-capped Andes visible to the east, the Pacific coast to the West and wine valleys in between, Santiago is in a pretty sweet position. You could easily base yourself here for a week and alternate between skiing (in winter), sunbathing on the beach (in summer) or simply swigging glasses of Cab Sav, Merlot, or my new favourite; Carmenère (all year round!).
Alas, I had just one night here which I spent at the newly opened Luciano K; a small but perfectly formed boutique hotel in the central Lastarria neighbourhood. Apart from the characterful and comfortable rooms, its winning feature is the rooftop terrace with heated pool, bar and super views. I ate a delicious dinner up here on my first night and it made a romantic setting.
Top tip number 1: If possible, choose a Deluxe room in Luciano K facing the Forestal park.
Top tip number 2: Explore the city by electric bike. I took to the steep San Cristobal hill and park with EasyBici who run various tours of the capital in small groups. The fresh air and zero leg effort required made exploring the city in the sunshine a real joy.
Atacama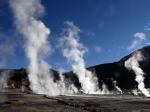 El Tatio geysers
The driest desert in the world lies at the northern end of Chile and is best reached by a 2.5 hour flight from Santiago, followed by a 1 hour transfer to the small town of San Pedro de Atacama. I was lucky enough to stay at the Tierra Atacama, which soars into first place on my list of favourite hotels. Offering laid back luxury and a welcoming homely vibe, you'll rest your head in a part adobe, part metal-clad pod with volcano dotted desert views. But the best bit about my stay was the food. What a mouth-watering extravaganza! I swear I put on the 3 kilos I came back with during my first few nights here.
Having feasted on a breakfast banquet fit for a king, I waddled out the front door (which I'm sure they made exceptionally wide for a reason) to experience a vast variety of wonderful excursions. There was horse-back riding, star-gazing, visits to surreal flamingo infested salt-flats, desert trekking through Luna landscapes and my personal favourite - a four hour gorge walk which culminated at the breath-taking Puritama hot-springs.
Feeling marginally guilty about not being in the office, I then went to inspect the Alto Atacama and Altiplanico hotel. Both marvellous options to suit different purse strings and types of traveller.
The Alto Atacama Desert Lodge and Spa offers a luxurious stay in the Catarpe Valley almost entirely surrounded by mountains. Just over a mile from the town centre, the Alto is the perfect place to get away from it all. There is an exquisite underground spa, 6 plunge pools and the opportunity to take an 'Inca Bath' in untouched virgin waters from an underground spring. Alternatively, you could enjoy some yoga, meditate or star-gaze from the hotels own observatory. And as with all other all-inclusive stays in the area, the Alto offers a multitude of excursions that venture further into the desert.
Half a mile or so down the road from the Alto, and on the way into San Pedro's town centre, is the Altiplanico. I really liked this hotel and it is exactly the sort of place I would choose to stay (given my more moderate budget). It may not be as luxurious as the Alto or Tierra, but the Altiplanico makes up for this with bundles of charm and warmth. Laid out like a small adobe village, the scattered dwellings are mud built and single story high. The rooms themselves are spacious, tastefully furnished and surrounded by large and well kept gardens. There is also an outdoor pool and bar area should you need to cool off in the desert heat.
Valparaiso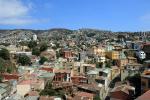 View over Valparaiso
Quirky, wonky, windy and rather dilapidated, Valpariaso is a place like no other. Indeed, the famous Chilean poet Pablo Neruda once described it thus:
'Valparaíso, how absurd you are…you haven't combed your hair, you've never had time to get dressed, life has always surprised you.'
Which you realise is an apt description the moment you clap eyes on the labyrinth of steep cobbled alley-ways and buildings that appear to have been erected overnight. Perched precariously on the cliffs, these largely wooden structures have become a canvas for resident graffiti artists whose murals create a brightly coloured cityscape. Also unique to Valaparaiso is its unusual system of funicular lifts (steeply inclined carriages) which go up and down the cliff face and have been declared one of the 100 most endangered historical treasures in the world.
I could have wandered here for weeks. Sadly however, I, like most visitors, stayed just one night which really wasn't long enough to appreciate such an intriguing and delightful World Heritage listed city.
But when you visit (and visit you must) then stay at the Casa Higueras. You won't find a more charming or luxurious boutique hotel in the region. Centrally situated on Cerro Alegre (the 'Happy Hill'), with magnificent views of Valparaiso's bay, this former 1920's mansion has 20 individual rooms, an outdoor pool with spectacular sea views, Jacuzzi, and sauna.
Pucón
The Antumalal - hidden among the trees
My next stop was Pucón, 'the adventure capital of Chile', home to azure blue lakes, thick forests of monkey-puzzle trees and snow-capped volcanoes, making it a mecca for hikers, bikers, water-sport enthusiasts and those hoping to summit Mount Villarrica. It is a small town with an Alpine-like, ski village feel. With so much to see and do in the area, it is worth hiring a car to give you more flexibility and freedom (just don't go in December, January or February when the masses arrive and the traffic-jams are unbearable).
I stayed at the very special Antumalal, a short 15 minute stroll from the town centre. With its bauhaus-inspired architecture, Bond-lair pool and unbeatable lake-side views, its no wonder the likes of Queen Elizabeth, Neil Armstrong and Emma Thompson have chosen to stay here. Depending on your preference and needs, you can choose to stay in the main building whose rooms all boast their own log-fireplaces or rent one of the 4 chalets scattered amid the stunningly designed gardens.

Chiloe Island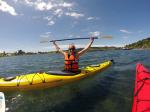 Kayaking around Chiloe Island
This was my first time to Chiloe Island, a place which felt both familiar and quite alien at the same time. Having grown up on a farm in rural Berkshire, the rolling green fields of sheep and torrential rain which welcomed me didn't immediately excite. However, as I began to pass vibrantly coloured, wooden clapboard churches and houses perched on stilts, I thought 'ok - so this is a bit different'.
And happily, upon eventually arriving at the Tierra Chiloe after a long drive and short ferry crossing from mainland Chile, the skies broke out into glorous sunshine for the remainder of my stay. Which meant I could enjoy a wonderful full day out on the hotels own stunningly designed 'Williche' boat. On board, both bikes and kayaks were stored for us to use and explore the various surrounding islands and villages. It was a perfect day, made only more so by the fabulous lunch prepared onboard by the hotel's chef.
Torres Del Paine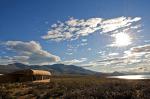 Tierra Patagonia
The last stop on this epic journey was the almighty Torres del Paine National Park in the far south of the country. This was my second visit to the park and the last time I visited I camped; so staying at the multi-award winning Tierra Patagonia was certainly a (big) step up! Cocooned in this low-lying, almost invisible hotel, I was spoilt rotten. From the attentive and friendly staff, to the beautifully prepared food and superb spa, nothing could have made my stay in this wild and windy region more comfortable. I hiked, rode, swam and relished every moment of being in the great outdoors surrounded by stunning scenery - mountains, glaciers, waterfalls, forests and more.
The only thing I would say is that if you are heading this far into the back and beyond, spend a good four nights here as anything less just won't suffice.
So what are you waiting for?! Pick up the phone or drop us an email for a friendly chat about any of the places mentioned above (or indeed any not mentioned above, as I didn't quite cover everything!). Maybe you would like to get right off the beaten track and explore the Carretera Austral or cross the border into Argentina, Bolivia or even Peru.. the possibilities are endless, so let us know what floats your boat and we will tailor the perfect trip for you.