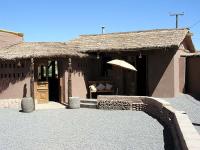 Hotel Altiplanico
Location
San Pedro de Atacama (The Atacama desert, Chile)
Description
Just outside town (1km), built in the local Atacameña style with adobe and close to the pre-Incan ruins of Pukara de Quitor. It is very peaceful with good views to the volcanoes. There is a spacious courtyard-garden with an outside pool and small area for serving food.
Activities
Visit the stunning landscapes of the Atacama Desert, from the El Tatio geysers to the Atacama Salt Lake, the village of Toconao and the Puritama hot springs.
Accommodation
The rooms are all different in design and style but are all authentically decorated.
When to go
All year round. Some rain in January and February, cooler nights April to October.
Client comments and reviews
The Hotel Altiplanico was very good although I thought the food was very expensive for what you got.  Other nights we ate at Blanco where the food was good and then at Cafe Piedra where they served the best chilli con carne I have ever had. Good pisco sours too! - TB (November 2010)
Hotel Altiplanico was delightful and huge fun. When we had rain, the water came through the roof in the restaurant and started to dissolve the adobe on the walls! The food there was also very good and the sandwiches fantastic. All trips from here excellent. - JM (March 2009)
The Altiplanico hotel was high class, simple and comfortable. Although we intended to go into town for dinner we never achieved it. After an early start and a hard long day we always settled for the very acceptable, home cooked fare in the hotel. - DW (March 2007)