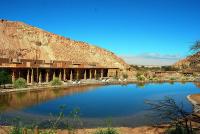 Alto Atacama
Location
San Pedro de Atacama (The Atacama desert, Chile)
Description
A unique hotel, which blends into its setting, near the Pukara de Quitor ruins, around a 10 minute drive from San Pedro (4km). The living room has a fireplace and there are also some outdoor firepits which are great for stargazing. The hotel also offers six outdoor pools and a spa.
Activities
A guide will go through the excursion options with you when you arrive so you can choose - there are walks, treks and biking and all excursions, in small groups, are accompanied by a bilingual guide. There is also an observatory for night-time stargazing. There are many areas within the grounds where you can find a spot to enjoy the scenery.
Accommodation
Rooms are spacious and very comfortable. Each room has a private terrace.
Our comments
The setting is undoubtedly the most impressive of all hotels in the Atacama. The hotels combines first-class luxury with the best of the Atacama.
Client comments and reviews
The Alto Atacama was excellent. The buildings have been beautifully designed to blend into the countryside. The staff were incredibly helpful. We thoroughly enjoyed the various trips we undertook and it was a good introduction to being at altitude. The transfer to Bolivia was done impeccably - the Deputy Manager and Head Driver took us up themselves and we were handed over the ditch that constitutes the border in very good shape. - CC (March 2016)