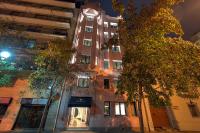 Luciano K
Location
Lastarria (Santiago, Chile)
Description
This 1920s art deco style apartment block in the heart of bohemian Barrio Lastarria has been lovingly converted into a 38 room hotel. A landmark of the area, it was once the tallest building in Santiago and the first to have central heating and a lift. The restored building still features the original lift capsule and many of the signature art deco touches of the cult Chilean architect Luciano Kulczewski, after whom the hotel is name. The unique property blends old character with contemporary style. There is plunge pool and bar on the rooftop terrace which overlooks the park and Plaza Italia.
Activities
Many of the city's museums and main highlights are within walking distance or only a short taxi ride away.
Accommodation
The comfortable, modern rooms all offer king-sized beds. There are views over Parque Forestal on one side and Alameda Avenue on the other.