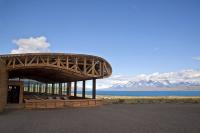 Tierra Patagonia
Location
Torres del Paine (east) (Torres del Paine, Chile)
Description
A unique and cleverly-designed hotel just outside the national park on the shores of Lake Sarmiento. There are stunning views towards the massif from all rooms, the pool and the public areas. The hotel has a restaurant and bar area, presentation room for guide briefings, and a spa with indoor swimming pool. All meals and excursions are included.

Only allows children 10 years and older.
Activities
A selection of outdoor excursions include hiking, riding, 4x4 land trips and biking in small groups with a guide.
Accommodation
37 double rooms and 3 suites all with private bathrooms. Simple but stylish decor and very cosy.
Our comments
This hotel blends seamlessly into the natural landscape and is a truly special place. All rooms offer sensational views, the guides are wonderful and the food good. The property is effortlessly luxurious, sophisticated yet casual.
When to go
Open from October to 30 April.
Client comments and reviews
The best hotel I have ever stayed in! Simply exquisite – beautiful architecture, gorgeous location, fantastic service, attentive staff, great food, excellent selection of drinks. Views of lake and mountains sensational. Organised tours and events brilliant. Infinity pool and spa.. I could go on and on. Wow wow wow.. - PW (March 2023)
The jewel in the crown has to be Tierra Patagonia, a great hotel that blended into the surrounding scenery with great facilities exceptional staff and great half and full day trips. - DF (November 2017)
Our favourite hotel and stay. What an amazing place. What a location! We wished we could have stayed longer. Tierra is a fabulous hotel with great service, food, good location and excursions with knowledgeable guides. We did lots of horse riding along the lake it is situated on and hikes and fishing. We will go back. - JK (January 2016)
The Hotel which stood out from all others was Tierra Patagonia: location, hotel design and staff - MY (December 2015)
We arrived in Tierra Patagonia a couple of hours ago. What a fantastic place! The rooms, the views, the food are all wonderful. Thank you so much for arranging this for us. - BJ (January 2014)
The highlight of our trip was the hotel Tierra Patagonia. The setting is sensational and architecturally it fits in perfectly and unobtrusively into the landscape. The staff were excellent. - JW (January 2012)