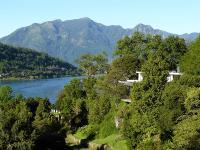 Hotel Antumalal
Location
Lake Villarrica, near Pucón (Pucón and the Northern Lake District, Chile)
Description
Built in a Bauhaus style, the Antumalal has been run by the same family since its conception the 1940's. It has lovely views over the lake, large gardens, stylish public rooms, pool, tennis court and dock. The Queen stayed here in the 60's.
Activities
Pool, tennis court and dock.
Accommodation
16 rooms, 3 separate cottages and a lake house. All rooms are spacious and have views.
When to go
October to April.
Client comments and reviews
The hotels were great, probably my favourites were the ones in San Pedro and Hotel Antumalal (the service was so lovely). - HA (November 2008)
The hotel was in a wonderful position and the food superb. - UB (November 2008)
The hotel we absolutely loved was the Antumalal in Pucon. The service there was second to none. - LW (March 2008)
Very good hotel, with good facilities and food. - DW (March 2007)