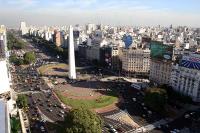 Buenos Aires is a cosmopolitan city, often referred to as the 'Paris of South America', with fine hotels, shops, and colonial buildings. On the banks of the River Plate estuary, the city is laid out on a grid system, with some spectacularly wide avenues. There are many theatres, tango houses, museums, and a beautiful opera house.
Different parts of the city have distinct flavours, from La Boca (where some of the oldest buildings are to be found, many brightly painted) and Calle Florida for shopping, to the Plaza de Mayo with its 'Pink Palace' (the president's residence).
Our preferred accommodation

means that the hotel is one of our Dream Destinations.