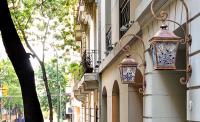 Hub Porteño
Location
Recoleta (Buenos Aires, Argentina)
Description
A luxury boutique hotel in the elegant Recoleta area of Buenos Aires. There is a restaurant serving modern Argentine cuisine, a relaxing bar and an outdoor deck with jacuzzi. Their aim is for guests to really get to know the city.
Activities
As an additional service they can design a personal itinerary for clients' stays, with a programme of activities suited to individual interests, a driver/guide and all meals.
Accommodation
The 11 large bedrooms with high ceilings, and views of the winter garden or street, are decorated with wood and local textiles. Bathrooms have jacuzzis and hi-tech showers. Non-alcoholic drinks and coffee are free of charge in your room.
Our comments
An oasis of calm in bustling Buenos Aires. The hotel is exquisutely decorated and personalised service is second to none - staff are on hand to help with any request. No children under 12 are allowed.



Client comments and reviews
The Hub Porteno is exquisite - a beautiful boutique hotel that nobody knows about. Great staff and in a wonderful location. - JR (January 2014)