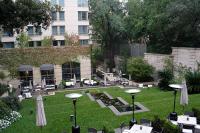 Park Hyatt Palacio Duhau
Location
Recoleta (Buenos Aires, Argentina)
Description
A large hotel consisting of the old palace building and the modern building. Both are linked by gardens and also an underground walkway with art gallery. There are 3 restaurants with outside dining areas, a 25m indoor pool, spa, gym, wine cellar and cheese room.
Accommodation
165 rooms in total. Only 23 are in the palace building which has more character and the rest are in the modern building. All rooms are spacious and bathrooms are large.
Our comments
An excellent hotel with fantastic service and in a great part of the city.