Vineyards and pre-history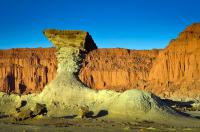 San Juan province, on Argentina's western border with Chile, is a mountainous and arid region. Two national parks, Talampaya and Ischigualasco, attract visitors with their lunar landscapes and as the sites of the oldest dinosaur fossils yet discovered, from the late Triassic period.
Fertile valleys, watered by rivers from the Andes, produce grapes and olives, and mining is another important industry. The capital, San Juan, was founded in 1562. La Rioja province, to the north, is also in the foothills of the Andes and shares a climate of short winters and very hot summers.