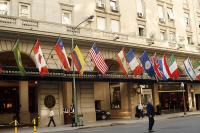 Alvear Palace Hotel
Location
Recoleta (Buenos Aires, Argentina)
Description
One of the best hotels in Buenos Aires, the Alvear Palace is charming and full of character. An historic 1932 building in the heart of the elegant Recoleta district, the hotel is a member of the Leading Hotels of the World group. It is on a very fashionable shopping street, and from here, most of the city's landmarks, particularly the famous cemetery, are within easy walking distance. The hotel is famous for its Alvear Afternoon Tea in the pretty L'Orangerie restaurant and La Bourgogne, the formal restaurant, has an excellent reputation. There is also a rooftop bar and a pool bar.
Activities
There is a health club offering a small pool and spa treatments and a rooftop covered pool.
Accommodation
Each guest has access to a 24-hour personal butler service. The rooms are beautifully decorated with fresh fruit and flowers each day, and are very comfortable. There are TV/DVD screens in the most of the bathrooms, and all have jacuzzi baths.
Our comments
A lovely hotel from which to explore this vibrant area.
Client comments and reviews
For me, the Alvear Palace has got to rank as one of the top hotels in the world, nowhere else in Buenos Aires can touch it. - FW (February 2008)
Alvear Palace was seriously smart and luxurious, got to rank up there with the best hotels we have been to! - IT (January 2008)
Alvear Palace for me was ideal; location, service, atmosphere etc. - M-PS (November 2007)