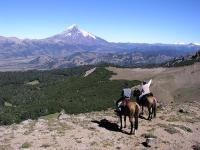 North of Bariloche are the picturesque towns of Junín and San Martín de los Andes surrounded by stunning scenery, including the Lanín National Park with its towering volcano. There are several excellent estancias offering riding and fishing.
Our preferred accommodation
Estancia/Ranch - 60km north-west of San Martín

Huechahue is in the Andean foothills about 45 miles from San Martín de los Andes and 125 miles from San Carlos de Bariloche, and is particularly well know for the quality of the riding holidays. The area is overshadowed by the Lanín volcano, rising to 13,000 feet. The 15,000 acres support 900 head of Hereford cattle and 400 acres are irrigated for alfalfa production. The landscape is made up of scrub-covered hills and rock outcrops with a mountain backdrop. The mountains are thickly forested and range from 5-7,000 feet. The family also own Estancia El Nido, a 1,200 acre property in the mountains on the edge of Lake Lolog, and also bordering the river Quilquihue, a fast-flowing trout stream.

Estancia/Ranch - 35km east of San Martín

Estancia Cerro de los Pinos covers 50,000 acres of mountains, rivers, plains and woodlands. Kevin and Maria Tiemersma run the guest operation, Estancia Tipiliuke.

City hotel - San Martin de los Andes

A comfortable, friendly hotel a short walk from the town centre, with a restaurant, bar, communal relaxation area and an outside pool.