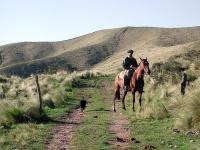 The city of Córdoba is an hour's flight west of Buenos Aires, at the southern end of the Sierras de Córdoba, rolling hills dissected by fertile valleys. Originally popular as an escape from the summer heat of Buenos Aires, today there are several estancias offering excellent riding and walking.
Our preferred accommodation

means that the hotel is one of our Dream Destinations.