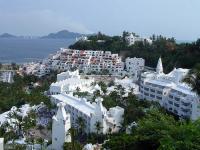 The Pacific coast is another ideal beach destination, with year-round good weather. This area covers a beautiful stretch of coastline, including the popular town of Puerto Vallarta, once a small fishing village and still maintaining part of its quaint charm. Along the coast are a scattering of boutique beach hotels, many in very remote locations and offering everything from birdwatching and riding to world-class golf.
Away from the coast, Guadalajara, a modern metropolis built around a historic quarter, has several fine museums, and the town of Tequila with its many distilleries is just an hour away.
Although sprawling Acapulco is Mexico's most famous Pacific resort, there are a number of exclusive hotels stretching north to Manzanillo offering a more intimate and secluded experience. To the south, the small resort of Zihuatanejo has grown from a fishing village and coconut plantation, and its lovely beaches and charming yet luxurious hotels have ensured its popularity.
The coast south of Acapulco is very pretty and quite dramatic in parts. Isolated as a region until fairly recently, it has some wonderful stretches of beach and attracts surfers and turtle-watchers alike. Puerto Escondido, once a sleepy fishing village, is now a thriving travellers' destination, and Huatulco further along the coast has top class luxury hotels, casinos and golf-courses.
Our preferred accommodation