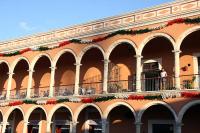 Campeche is a charming colonial port with many restored buildings and an old fort that helped it to become a designated UNESCO World Heritage Site in 1999. It also has a lovely zócalo and is one of the most photogenic colonial cities in Mexico.
Our preferred accommodation

means that the hotel is one of our Dream Destinations.
City hotel - Campeche

A charming boutique hotel 1 block from the main plaza. Situated in a quiet street this 18C colonial house has many original features including beautifully tiled floors and tradional furnishings. There is a small garden and roof top terrace with hammocks and a plunge pool.

Hacienda - 40 minutes from Campeche

Formerly a 16th Century cattle ranch and a sisal plantation Uayamón has been beautifully restored, maintaining many original features. It dates from 1894, has an impressive entrance and several of the buildings have been left as ruins. The main house has a library, spacious communal area and dining room, plus a wonderful terrace. There is a lovely pool in the old storage house and a spa in the old payment room (the hacienda had 600 employees at its peak) which has the original stone walls. There is also a small chapel and a jail in the grounds!

City hotel - Campeche

A luxury hotel in a grand 17th century building with unusual swimming pool weaving its way around the grounds. There is a lounge bar and the excellent restaurant La Guardia is found on the rooftop. The hotel is set on the cobbled streets of the inner city, opposite the fort.