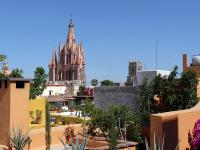 With exquisite colonial architecture, fine food, better tequila, bustling cities and beautiful butterflies, the colonial heartlands are well worth a visit. Locals are warm and generous, the streets are perfectly safe, the economy is strong and cultural traditions thrive, especially in the countryside.
Heading north from Mexico City is El Bajío, a region of beautiful colonial cities built on the wealth of silver mines and renowned for their baroque architecture, ornate churches and pretty cobbled streets. The smallest and prettiest is San Miguel de Allende, a good base from which to explore the university town of Guanajuato and the restored 18th century missions outside Querétaro. The town of Zacatecas is carved into the slopes of Cerro de la Bufa.
To the west of El Bajío, in the state of Michoacán, is the picturesque town of Pátzcuaro, most famous for its colourful Day of the Dead celebrations from 1 November. Morelia is another charming colonial town, close to the El Campanario ecological reserve which witnesses the spectacular annual migration of the monarch butterfly from December to March.
Our preferred accommodation