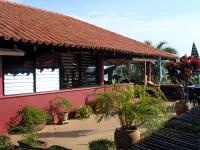 Casa Delfin Sonriente
Location
Trocones, Zihuatanejo (The Pacific coast, Mexico)
Description
A small and simple beach-side lodge, on a long beach with excellent surfing opportunities. The village has a couple of bars and restaurants and it has a safe and tranquil feel.
Accommodation
There are two bungalows set apart from the main house, with a shared kitchen - the owners can organise someone to cook for you in the evening if you would like. Rooms in the house have fine views of the sea and a bed suspended from the ceiling. Decor is rustic and quite charming.
Our comments
A lovely spot to relax by the sea.