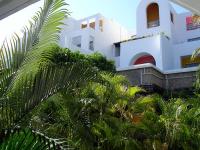 Camino Real - Zaashila
Location
Huatulco (The Pacific coast, Mexico)
Description
A large hotel of Moorish design, on a secluded beach on the outskirts of town.
Accommodation
Extensive pool area and a variety of restaurants and bars. Five minutes from the golf course. Rooms not quite so stylish as the public areas, ten suites have fine views of the bay.
Our comments
Huatulco is a purpose-built resort with good airport facilities, and a developed tourist infrastructure including resort hotels and casinos.