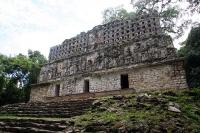 South of Palenque and not far from the Guatemalan border are two fascinating and less-visited sites, Bonampak and Yaxchilán. Bonampak has very good stelae and one main excavated structure, but the unique attraction is the Templo de las Pinturas whose wonderful painted murals depict scenes, some violent, from Maya life. Yaxchilán was built on a promontory formed by a natural bend in the river Usumacinta and had great strategic importance. Half of the site is on the Guatemalan side but has not been excavated for fear of mines. It is stunning from the air but also impressive from the ground: stelae, intricate lintels, a labyrinth, and leafy glades overlooked by an impressive temple.
Our preferred accommodation
Inn/Posada - Frontera Corozal

A simple hotel run by the local community on the Usumacinta River. It has a restaurant and internet facilities.