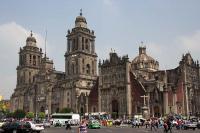 Mexico City, founded in 1521 on the ashes of the Aztec island citadel of Tenochtitlán, is a modern and hectic sprawl, home to over 20 million people. It has excellent museums, galleries, markets, cathedrals and plazas, with areas of fine colonial architecture.
Our preferred accommodation
City hotel - Main square

A comfortable hotel in an ideal location just around the corner from Mexico City's huge main square (zócalo). It has a beautiful Art Nouveau Tiffany glass ceiling and the rooftop bar has one of the best views of the zócalo in the city.

City hotel - Polanco

A beautifully presented house in the quiet yet chic area of Polanco. Breakfast served in the pretty rooftop restaurant. There are lovely sitting areas and small bar.

This hotel was previously called Casa Vieja.

City hotel - Polanco

In the stylish surroundings of Polanco, this small boutique hotel is chic and elegant with good service. A spiral staircase runs the height of the hotel which is a special design feature although there are two lifts as well. There are two restaurants adjoining the hotel, one run by reknowned Mexican chef Marta Ortiz and the other a Mexican cantina. There are also spa facilities.