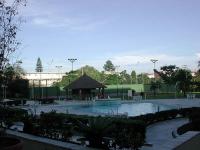 Marriott São Paulo (airport)
Location
Near São Paulo airport (São Paulo, Brazil)
Description
A smart and comfortable hotel very close to Guarulhos airport, with free transfers to and from the airport. There is a large outdoor pool, gym and spa, and a choice of restaurant areas. Was called the Deville.
Accommodation
All rooms are tastefully decorated.
Our comments
Ideal for a short stop-over and good value.
Client comments and reviews
Perfectly acceptable hotel for overnight stay ? only ten minutes drive from airport. Staff welcoming and rooms clean. - MW (December 2007)