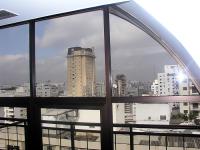 Estanplaza Paulista
Location
Paulista area of the city (São Paulo, Brazil)
Description
A friendly and well-placed hotel in one of the smarter areas of the city, with easy access to galleries, shops and restaurants. The restaurant serves an excellent breakfast and there are snacks and hot drinks available in the lobby. Concierge and reception are very helpful. Citibank is just round the corner, and the Museum of Art is five minutes' walk away.
Accommodation
The rooms are very spacious, each with sofa and desk area. Bathrooms are large and well-appointed.
Our comments
A good option if you need a base in the city at a reasonable price.