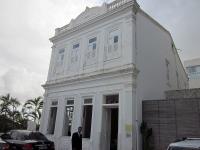 Zank Hotel
Location
Rio Vermelho (Salvador, Brazil)
Description
A stylish hotel in the bohemian neighbourhood of Rio Vermelho near to some of Salvador's best city beaches. This small, fashionable hotel has a 50's theme and vintage furniture throughout. There is a large, light restaurant, a spa, rooftop pool and hot tub with views of the ocean.
Activities
Rio Vermelho has good nightlife and is where Bahians come on a night out. The neighborhood has a myriad of bars, restaurants and botecos, (a tapas-like bar), with a number of bars providing the best in local live music, traditional and contemporary.
Accommodation
Accommodation is split across 2 buildings, with several well implemented 'themed' rooms in the old building and the rest in the new. The best rooms are spacious with floor to ceiling windows and ocean views.
Our comments
A great option for a second stay in Salvador and for those who wish to get to know more of the local culture and vibe of the city.