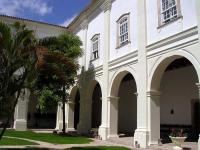 Convento do Carmo
Location
Salvador (Salvador, Brazil)
Description
The hotel is closed until further notice.
This historic building dates from 1586 and is in the heart of the Pelourinho. It is a former convent by the order of the Sisters of Carmelita and a small church is connected to the hotel. There is a small pool within one of the two courtyards, a restaurant, a bar and spa offering massages.
Accommodation
The hotel has around 100 rooms in 3 categories. All are spacious, beautifully furnished and have wooden floors.
Our comments
A beautiful, characterful hotel.