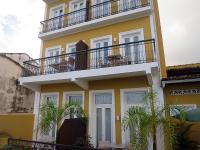 Casa do Amarelindo
Location
Salvador (Salvador, Brazil)
Description
French owned and run, the hotel is on a cobbled street in the Pelourinho. There is a small pool overlooking the bay and a good restaurant, open to the public, which serves a fusion of Bahian and French food. At the top of the hotel, there is a lovely rooftop bar, serving tapas, with stunning views.
Accommodation
There are ten lovely, spotless rooms with the best having views over the bay.
Our comments
Very friendly and welcoming and well positioned within the Pelourinho. The original town house has been totally remodelled and converted into a beautiful and modern hotel.
Client comments and reviews
We loved Salvador, the atmosphere, the constant noise and the friendliness. Casa de Amarelindo was a peaceful and quiet retreat, very comfortable and well run. - NC (February 2017)
We particularly enjoyed Salvador where the Casa do Amarelindo exceeded every expectation and we would wholeheartedly recommend this hotel and its restaurant. - JH (December 2008)