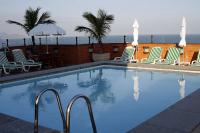 Porto Bay Rio de Janeiro
Location
Copacabana (Rio de Janeiro, Brazil)
Description
A modern, ocean-front hotel in central Copacabana. There is a restaurant and a bar on the lower floors and a lovely roof terrace with a small pool and bar. The staff are extremely polite and helpful and the corner rooms offer fantastic panoramic views of the beach.
Activities
Stroll along Copacabana or visit Ipanema Beach. Sugar Loaf, Corcovado and the botanical gardens are all within easy reach.
Accommodation
All rooms are comfortable with modern décor and there are 3 categories (Superior, Deluxe and Suite).
Our comments
The hotel is not very attractive from the outside but is much more modern on the inside. Good service.
When to go
All year round.
Client comments and reviews
Porto Bay Rio International was an excellent base for our stay in Rio. It was well-appointed, cool and comfortable, and although we didn't want to waste time by the pool, it was nice to know it was there! The staff were charming and efficient, and the breakfasts spectacularly good. Of course, being bang on Copacabana was a big plus too. - JB (January 2018)
An excellent choice of hotel, as far as we were concerned. Our first impression was even better because we were upgraded to a sea-front room and, from the balcony which we looked out over, we could see the length (all 4kms of it) of Copacabana beach - must be one of the best beach views in the world! Breakfasts were excellent, as were the evening meals, and the staff were very helpful, allowing us the use of the hotel facilities, including the roof-top pool, on our last day when we had to check out by midday. The hotel was conveniently located and we were able to wander up the beach, on to Ipanema and back, all in the heat of the day. - DS (January 2015)
The Rio Internacional/Porto Bay hotel was in a great location and a great place to stay. They have a good area on the beach with showers. The roof top pool was a good facility and the gym had a view to die for. It overlooked Copacabana beach from the roof of the hotel, the time soon passed. - DO (November 2009)