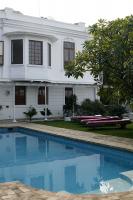 Casa Mama Ruisa
Location
Santa Teresa (Rio de Janeiro, Brazil)
Description
An elegant guesthouse tucked in the hills above Rio within the bohemian Santa Teresa neighbourhood, overlooking Guanabara Bay. Originally a traditional family mansion, Mama Ruisa has been immaculately refurbished and there is a charming open plan dining and sitting room with high ceilings and clean walls, ringed by a veranda with excellent views over the city. Stairs lead down to a pretty garden and pool.
Accommodation
There are 7 immaculate rooms offering a blend of classic colonial design with modern, light touches and décor.
Our comments
An excellent option within the cobbled streets of Santa Teresa, although set back from Rio's beaches and traditional highlights. Ideal for second visits to Rio or for those looking to relax in the quieter, colonial district well away from the city's busy centre.
Client comments and reviews
We really loved the hotel. It was stunning as was the bedroom and the breakfast on our charming balcony was just perfect. Though I can see the attraction (less taxis) of staying in Copacabana, we were pleased that we didn't. - LL (July 2008)
We loved this hotel - it was quirky, as is its French owner. It was a great base for exploring the city and a nice place to come back to. - WJ (December 2007)