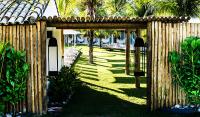 Pousada Brisas do Espelho
Location
30 minutes from Trancoso (Porto Seguro, Trancoso and Arraial d'Ajuda, Brazil)
Description
A charming small hotel between Trancoso and Caraiva and surrounded by truly stunning deserted beaches.
Activities
Outeiro beach is a 5 minute walk away along a sandy path, or visit Trancoso and Caraiva, both around a 30 minute drive away.
Accommodation
The 19 rooms are spacious and light. The 12 Contemporary Suites (6 ground floor, 6 above with balconies) are in the main house and overlook the pool and gardens. The 7 Vila Suites and large Master Vila Suite (ideal for families) are close by, and more rustic (and Bahian) in style.
Client comments and reviews
We totally fell in love with Brisas do Espelho, we virtually had the place to ourselves, and the pool, and the beach and the club. Shh, don't tell too many people about that one, we might want to go back and don't want the place to get crowded! - PM (August 2018)