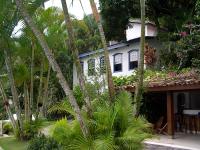 Pousada Picinguaba
Location
about 45 minutes from Paraty (Paraty, Brazil)
Description
A charming and informal small hotel set in a national park in the tiny fishing village of Picinguaba, overlooking a beautiful and isolated stretch of coastline.
Activities
They have their own schooner for sea trips and a visit to the colonial town of Paraty can be organised.
Accommodation
Pousada Picinguaba has 10 rooms, set in tropical gardens overlooking the sea, with a spring-fed swimming pool. The restaurant serves delicious freshly cooked food.
Client comments and reviews
Picanguaba was idyllic, the Pousada has been beautifully built and is in fabulous surroundings - the honeymoon suite made it! The village was very friendly and relaxed and agreed we felt lucky to be there. It was very sociable and we all ate together in the evenings translating for one another. I would definitely recommend it to anyone. We were reluctant to leave and would have loved another day or two there. - FR (April 2005)