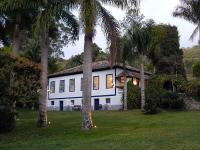 Fazenda Catušaba
Location
about 2 hours by road from Paraty (Paraty, Brazil)
Description
The property is a 450 hectare Coffee Fazenda, dating from 1850, about 20km from the small town of São Luiz do Paraitinga. The main house oozes character and maintains many original features including wonderful wooden floors and traditional furniture. The dining area, sitting room, wine cellar and library are all in the main building which overlooks the gardens and terrace. There is a minimum stay of 4 nights.
Activities
Riding, walking and bird-watching in the hills behind the property. There are waterfalls within walking distance, a lake to swim in and rafting is possible in a nearby park.
Accommodation
There are 5 restored villas separate from the main house, each with 2 rooms and a suite and all with a private bathroom and terrace. It is also possible to book an entire villa. All rooms are slightly different, stylish and with character, and have 2 queen or a king size bed, beautiful wooden floors and spacious bathrooms (shower but no bath). The suites are spacious with an open fireplace, bath and a king size bed.
Our comments
Breakfast and dinner are included and the farm produces its own coffee, Cachaça, organic vegetables, fruits and cheeses.

Sao Paulo is the nearest airport, about 2.5 hours by road. A private helicopter from Rio de Janeiro, São Paulo or Paraty can also be organised.

Ideally suited to groups of friends or a family.
Client comments and reviews
The fazenda was a great place to end and the staff could not have made us more welcome. We only had two nights but would have loved an extra one, giving us more time to walk up into the hills and to the waterfall. - JH (June 2013)
We had a lovely relaxing stay here, we rode to the highest point of the farm and the views were just magnificent. The food is delicious and the staff very friendly. Our little boy enjoyed it all especially sitting on the tractors and chasing the goats. - RR (May 2012)