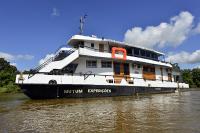 Mutum Expeditions Boat
Location
Northern Pantanal (Pantanal lodges, Brazil)
Description
Based on the river São Lourenço, 30 minutes south of Porto Jofre, this flat-bottomed river boat has a sun deck, air-conditioned dining room and a living room. Operating from June to early November and designed for wildlife watching, in particular jaguar spotting. Porto Jofre is 250km south of Cuiabá (about 5½ hours by road).
Activities
Excursions take place in smaller boats with a capacity for up to 8 passengers.
Accommodation
There are 8 small twin cabins (6 square meters) and each has a private bathroom, storage, air conditioning and mini fridge.
Our comments
This boat is operated by the owners of Pousada do Rio Mutúm, and is the most comfortable of the vessels operating in the western Pantanal (none are at all luxurious!). Low ceilings.
When to go
Dry season (June to early November).
Client comments and reviews
The Pantanal was the highlight of our holiday with excellent jaguar sightings. There were 10 of us on the Mutum Expeditions boat and we had 2 trips each day from the boat - around 0600 to 1200 and 1430 to 1800. We were lucky and had our own guide and boat for excursions so we could stop where we wanted for as long as we wanted. It was quite a long journey from the main boat to the area for jaguars, but we had some excellent sightings which included two brothers swimming, and being able to see a pregnant jaguar with nobody else around. Another highlight was observing a family of giant river offers playing and fishing for around 40 minutes, again with no other boats around. Our trip was complete when 2 jaguars crossed the road in the distance as we were driving back to Cuiaba! It was a very friendly boat, the food was good and the cabins adequate. - DB (September 2019)