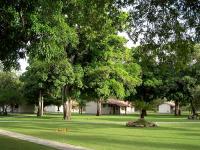 Pousada do Rio Mutúm
Location
Northern Pantanal (Pantanal lodges, Brazil)
Description
The lodge is situated on the Rio Mutúm between lakes Sia Mariana and Chacorore within one of the most beautiful regions of the Northern Pantanal. The area is rich in bird and wildlife and all meals and guided excursions are included. Lovely gardens and swimming pool overlooking the lagoon.
Activities
Guided excursions by canoe, horse, motorboat and on foot.
Accommodation
16 rooms distributed throughout the gardens, with private facilities, air-conditioning, a terrace with hammock and a fridge. There are 5 double bungalows (each with 2 rooms) and 6 slightly larger rooms in a single unit.
Client comments and reviews
Thank you for recommending Mutum. It was such a lovely place to be and we enjoyed all the trips arranged by the lodge. The food was all excellent as were the caipirinhas, we ticked off our bird and mammal list, which was massive, and it was all very relaxing and enjoyable. Ana, our guide, was absolutely ace. She was good fun to be with and an amazing birder, she also found us an anteater and a porcupine in her spare time. - SH (June 2022)
The lodge is in a nice setting and our chalet was comfortable. We had 2/3 excursions every day including day and night safaris, river trips (including sunrise), and walks around the lodge. We had our own guide which meant we had a personalised visit and it was amazing how quiet the area was. We didn't encounter other tourists when we went on safari and, apart from local families fishing, our trips on the river around the lodge felt as if we were the only ones on the river. We enjoyed all our excursions, albeit there was little wildlife activity on the night safari. - DB (September 2019)
The Pantanal was a highlight and the Rio Mutum and our guide were excellent. Next time we would stay longer than 3 days and, in hindsight, we might have missed out Chapada dos Guimaraes. There was nothing wrong but compared to The Pantanal the wildlife experience was modest. - NC (February 2017)
We saw over 70 species of birds, as well as tapir, river otters, caymans, anteater etc. Best of all, we saw a puma and our guide said she had worked there for 15 years and hadn't seen one before! I would recommend anyone to take their own binoculars, as we did because our guide didn't have any. The lodge was excellent and all the staff were very friendly. The food was good but did, perhaps, lack a little variety. - GD (October 2014)
Rio Mutum was probably my favourite place, there was just something very special about it. Great location, lovely staff, excellent food and, as you said, caipirinhas to die for and then of course there is the wildlife. Knocked the socks off the Okavango Delta I have to say. I would go back there tomorrow! - KT (September 2012)
The Pantanal was a great end to the holiday. We were surprised at the standard of accommodation at Mutum ? expected worse. Our excursions were all very well organised and too many highlights to mention; catching piranha, canoeing with a tapir alongside; not falling of a horse; sunrise over the lake etc. - DT&SH (October 2010)
Our guide at the Pousada Rio Mutum was brilliant. She knew a phenomenal amount about the wildlife and was a very enthusiastic person who always had time to talk. The lodge was also great. The accommodation was simple but spacious and everything was nicely arranged. The excursions were excellent and the variety of wildlife that we saw was an on-going delight. The only negative point was the food, which was not great (and surprisingly thin on fish). - AOH (March 2010)
The Pantanal was particularly special and they took very good care of us at the eco-lodge. Best of all I got to speak Portuguese to lots of people with varying degrees of success. Richard has taken about a billion photographs. Everybody's happy! - AH (March 2009)
We adored the Pantanal and Pousada Rio Mutum couldn't have been more hospitable. We have some very fond memories of that place and really miss it. The highlights here were the horse riding (first time for my husband and my first time riding through water - by sunset), piranha fishing and seeing the monkeys. The guide was very knowledgeable and not only knew all 600 species of birds but he knew them in three languages! - SW (July 2008)
The food was excellent and we were given several dishes on the table to choose from as there is normally a central buffet. The trips were very good and we got the best photographs of wildlife here. - MW (December 2007)