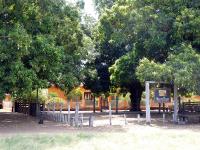 Pousada Baia das Pedras
Location
Southern Pantanal (Pantanal lodges, Brazil)
Description
A family run lodge on an 18,000 hectare fazenda (farm), about 300km (6 hours by road) from Campo Grande in the region of Nhecolândia. The farm was founded in 1940 and the main house was built in 1960, although they only started receiving guests in 2003. Rita is a wonderful host and her husband, Carlos, runs the farm (cattle are the main source of income). The house is very comfortable with a huge mango tree at the entrance (with hammocks and a shady seating area underneath it) and a lovely terrace/veranda. At the rear is an area for outside dining, with vine shading and which overlooks the gardens. Inside the air-conditioned communal dining area and bar are tradionally furnished, the décor is tasteful and the small sitting room has some beautiful books.
Activities
The area is rich in bird and wildlife and a range of excursions are offered/included on a shared basis (usually two each day). They have some beautiful horses, riding around the extensive farm is one of the key activities (both in search of wildlife and to help the local cowboys herd the cattle), but guided walks, boat trips and canoeing (when the region is in flood), and safaris in 4x4 vehicles are all possible too. Barra Mansa, another farm in the region, is a 2 day ride away along the Vazante de Castelo and involves riding over the open grasslands of the flood plain and across several farms, with a night in a hammock camp on the way.
Accommodation
The main house has 4 comfortable rooms accessed from inside and 1 room accessed from outside, all with a private bathroom air-conditioning and a fan (the lodge can accommodate a maximum of 13 guests).
Our comments
A very warm welcome from these charming hosts, and a lovely secluded property in this remote region of the Pantanal region. The food is excellent, all very fresh, they have some beautiful horses and all very personal.
When to go
The pousada is closed between December and February, because of the rains. Road access is 6-7 hours from Campo Grande or a short flight (a flight is recommended at least one way) from either Campo Grande or Aquidauana).