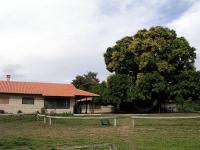 Fazenda Barranco Alto
Location
Southern Pantanal (Pantanal lodges, Brazil)
Description
This is a small, family managed pousada in a very pretty setting, with grass fields sloping down to the river at the front of the house, and horses, cows and rheas roaming all around.
Activities
This is perfect riding country and is wonderful for bird-watching. Boat trips can go out from the little beach at the bottom of the hill, and there is always a caiman or two basking on the bank.
Accommodation
The four bedrooms are off a central living room area and some have hammock and private terrace. The food is superb, with locally grown ingredients and excellent meat.
Our comments
A very hospitable welcome awaits the guest at this farm, and we highly recommend it to experience a slice of authentic Pantanal life.
When to go
May to November, to avoid the heavy rains and extreme heat of the wet season. The farm closes from mid-December to the end of March. Road access is possible in the dry months, but guests usually arrive by small plane, which is a fantastic way to approach the farm.