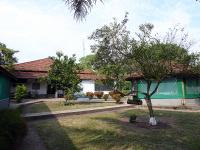 Fazenda Barra Mansa
Location
Southern Pantanal (Pantanal lodges, Brazil)
Description
A tradional family run lodge on the banks of the Rio Negro and part of a 1,000 hectare fazenda (farm) with cattle and horses grazing in the fields around it. The main house has a screened terrace/veranda, lounge area with lots of beautiful books on the Pantanal and a small bar. The dining room is in a separate building which is screened and there are shady areas, with hammocks, in the garden for relaxing during the heat of the day.
Activities
The area is rich in bird and wildlife and a range of excursions are included on a shared basis (usually two each day). They have some beautiful horses and riding, guided walks, boat trips on the Rio Negro (a 2 minute walk from lodge), canoeing on the river or along the Fazente de Castelo (fast flowing water which drains the flood plains/swamp water into the river), safaris in 4x4 vehicles, night drives and sport fishing (mainly dorado) are all possible options.
Accommodation
The 6 rooms are simply furnished with traditional furniture and tiled floors, and all have a private bathroom, air-conditioning and a ceiling fan. The room in the main house can accommodate a family of 4, a separate accommodation block has 3 double/twin rooms with a screened veranda overlooking the garden and there is also a small house (with 2 bedrooms, a bathroom and a sitting room) that can sleep 5.
Our comments
Barra Mansa is the home of Guillermo and Claudia, who are extremely welcoming and knowledgable about the Pantanal region.
When to go
Road access is possible in the dry season (about 4 hours from Aquidauana or 5-6 hours from Campo Grande) but access is also possible by light aircraft (from either Campo Grande or Aquidauana) and is recommended (at least one way).