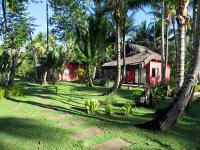 Vila das Orixas
Location
Morro de São Paulo (Morro de São Paulo, Boipeba and Praia do Forte, Brazil)
Description
A small hotel on quiet fourth beach set in large, leafy grounds stretching back from the beach into the jungle. There is a semi-olympic length pool and pool bar, beachfront restaurant and spa.
Activities
Snorkel in the natural rock pools at low tide, go horseback riding, walk through the forest to the local village of Garapua, take a day trip to Boipeba, walk along the beautiful beaches to the lively town of Morro or just relax on the beach or by the pool.
Accommodation
The modern and stylish bungalows have all amenities and are scattered amongst the grounds. Some are semi-detached and good for families whilst others are more private with their own hot tubs.
Our comments
A stylish hotel in a great location, next door to Anima hotel.