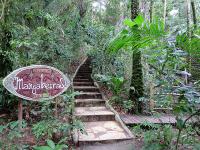 Mangabeiras
Location
Boipeba Island (Morro de São Paulo, Boipeba and Praia do Forte, Brazil)
Description
Set on a cliff top overlooking the ocean with rooms spread out amongst the large grounds, this a perfect place to relax. There is a lovely large pool and restaurant with stunning views of the ocean, bay and Morro de Sao Paulo in the distance.
Activities
Swim, snorkel, canoe into the mangroves, ride horses, hike, read, relax on the beach or just wander around the charming village of Boipeba.
Accommodation
Around 10 spacious, private bungalows all with ocean views hidden in the rainforest. The better ones have balconies and private hot tubs.
Our comments
A great location for the views, but these do come at a price with many steps up from the beach.