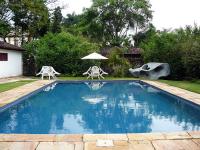 Solar da Ponte
Location
Tiradentes (Minas Gerais, Brazil)
Description
Pretty colonial house just over the bridge (from which it takes its name) from the leafy cobbled square of Tiradentes, about 3 hours from Belo Horizonte or 5 hours drive from Rio.
Activities
Walks around the town, or riding on local farms, all of which can be organised through the hotel. The old steam train that still runs the 13km between Tiradentes and São João del Rei is a narrow 76cm gauge and has been in operation since 1881. The town is beautifully restored, with excellent restaurants, fine shops (particularly for handicrafts and the local pewter), and several churches with excellent examples of the style known as Brazilian Baroque.
Accommodation
12 rooms in a converted colonial mansion. There is a pool in the pretty gardens, and a restaurant for breakfast and teas. Tiradentes itself has many excellent restaurants within easy walking distance of the hotel.
Our comments
Owners John and Anna Maria Parsons have lovingly turned the Solar into an exceptional country inn, all rooms have antique furniture and works of art by local craftsmen. The afternoon tea is not to be missed!
When to go
Year round, coolest from May to October.
Client comments and reviews
Tiradentes was delightful and the Solar do Ponte was lovely, especially 5 o'clock tea and a nice chat with John Parsons - a truly friendly and welcoming atmosphere. - SP (November 2007)