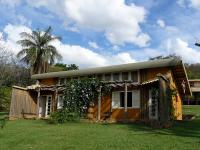 Rancho Cipó Pousada
Location
Serra do Cipó (Minas Gerais, Brazil)
Description
A friendly pousada, with rustic but clean and comfortable rooms, set in lovely gardens. It is a short walk from Cachoeira Veu da Noiva and within easy reach of the National Park and all services in the centre of the town. Facilities include an outdoor swimming pool and small restaurant.
Activities
Enjoy activities in the Serra do Cipó National Park which is around 1,000 hectares of savanna, woodland, canyons, waterfalls, rivers, lakes and also preserved archeological sites. There are lots of walking trails and waterfalls and there are many other activities available including kayaking, canyoning, rock-climbing and caving.
Accommodation
19 rooms in chalet blocks throughout well kept gardens, all with a terrace, private bathroom and ceiling fan.