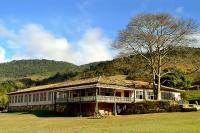 Reserva do Ibitipoca
Location
Minas, about 4 hours from Rio (Minas Gerais, Brazil)
Description
The Reserva do Ibitipoca is about 4 hours inland by road from Rio de Janeiro (270km), and began in 1981 with the purchase of the Fazenda do Engenho. The comfortable lodge, a remodelled old house built in 2006, is set at 900m overlooking a lake and offers some wonderful views, particularly from the terrace. The dining room is traditionally furnished with a wood burning stove and guests can either eat 'family style' at the main table or be seated at individual tables. The main sitting room has an open fire and there is also a small TV/DVD room. Other facilities include a Spa, sauna and outdoor hot tub
Activities
The aim of the Reserve is the reforestation of native flora species and to expand the habitat of animals in the region, many endangered. It is over 3,000 hectares and though much of the soil is very poor and sandy there are waterfalls, caves and natural pools. Around 40,000 native trees have been planted and flora and fauna is slowly returning the area. Mountain bikes are available and there is some lovely riding. The horses are Mangalarga and Anglo-Arabian and very comfortable. There is no swimming pool but it is possible to swim in the lake or at the waterfalls. The Ibitipoca State Park, 1,923 hectares, is about 5km away and visits can be organise.
Accommodation
The lodge has 8 very comfortable rooms/suites well equipped with an Ipod amplifier, telephone, safe etc but without a TV. All the rooms are slightly different with traditional, tasteful furnishings and wall hangings that reflect local handicrafts and culture. The bathrooms are spacious, most with a Victorian style bath and shower, plus underfloor heating. The suite also has a Jacuzzi bath. There are also a couple of mountain houses away from the main house, each with 2 or 3 simple/rustic rooms, a bathroom, a small kitchen, solar energy and hot water generated by a wood-burning stove. Meals are eaten at the main house where wi-fi is also available.
Our comments
A really unique property and project with wonderful friendly staff (most of them local employees) and excellent food, typical of the Minas Gerais region. There is also a private air-strip.