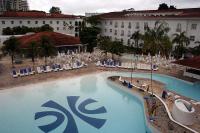 Tropical Manaus
Location
North edge of Manaus, on the Rio Negro (Manaus, Brazil)
Description
Closed May 2019 with no indication of re-opening.
A large and sprawling colonial-style hotel relatively close to the airport, with its own docks.
Activities
Large pool, min-zoo for children, sea plane available at docks and 'Meeting of the waters' tours.
Accommodation
Comfortable rooms, although most of them are a long walk from reception. There is a small parade of shops by the hotel entrance, and several dining areas, including one outside by the pool.
Our comments
The staff and services struggle to keep up with the size of this hotel, but rooms are quite comfortable and there are few other options in Manaus.