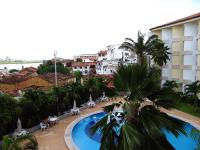 Grand São Luis
Location
São Luis (Lencois Maranhenses and the colonial ports, Brazil)
Description
The hotel is closed until further notice.
A large hotel in the colonial centre just off the main square, next to the cathedral and government buildings. It is well located for exploring the city and is the only hotel in this part of town that has a pool.
Capacity
211
Accommodation
Due to the steep hill on which the hotel is built the entrance and reception are on the third floor and rooms are at the back spread across six floors. Rooms are comfortable and reasonably sized, all with a view of the river and the pool. The rooms on the ground floor have direct access to the pool.
Our comments
Well located but a little characterless.